On this Holy Saturday we find ourselves at the church of St John the Evangelist, located in Moray Street, Wick.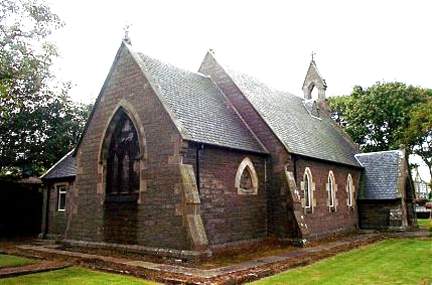 St John's was built in 1870, to a design by Alexander Ross of Inverness. Although it has never had a large congregation, it was an Incumbency on its own until 1963, when it was linked with the Church of St Peter and The Holy Rood, Thurso.
The building itself is especially attractive, with a warm and friendly atmosphere.
The four light transparent windows, are affectionately known as the "I AM" windows, as they depict the events in our Lord's life when, as we read in St John's Gospel Jesus proclaimed, "I am the Good Shepherd", "I am the Resurrection and Life", "I am the True Vine" and "I am the Bread of Life".
These windows are by David Gulland, a former member of the Vestry of St John's, and a recognised expert in glass.
Last June, Bishop Mark made a journey by train to St Peter's, Thurso, and it is interesting to read his account:
'This week I had a trip to the North of the Diocese and for the first time the event occurred at an hour that allowed me to use the train. I was to preach at the memorial service for Mrs Margretta Hadfield, the widow of John Hadfield former Archdeacon of Caithness. I caught the train from Dingwall and settled back to wait for the coffee trolley, guess what, they don't have one on the early train. The journey is spectacular and deposited me in Thurso in a better frame of mind than when I have had to drive. The train also stops at some amazing places as it zig zags across the country. We stopped at Alness, Invergordon, Fern, Tain, Ardgay, Culrain , Invershin ,Lairg ,Rogart, Golspie, Dunrobin, Brora, Helmsdale, Kildonan, Kinbrace, Forsdinard, Altnabreac, Scotscalder, Georgemas Junction and finally Thurso. This was a total of three hours and nineteen minutes but it only cost £21.60 return, considerably cheaper than a tank of fuel. If only the train timetables were more flexible across the Northern Network I could make much more use of them.

I arrived in Thurso in a heatwave, yes I know what you in the South are thinking, but it is always sunny in the North! I was also very hungry so I sauntered up to the High Street in purple gear to buy a sausage roll and a bun at Johnston's Bakery, as usual this caused comment, smiles and hellos. The service was good, the church was well filled and many conversations about the old days ensued.

Afterwards I sauntered back up to the station and caught the train South, I immediately fell asleep and woke as we slowed down at Helmsdale. I got up to get some papers from my bag and panicked, my bag was missing!! Now this was serious enough but I had taken the Old Gold Cope from the Cathedral and with it the Episcopal Morse. (This is a stunning gold plated fastening for the cope and in the middle there is a large cairngorm stone, traditionally this style of fastening is reserved for the Diocesan Bishop). I rushed to get the guard, what was I to do? The guard offered to fill in a report, I was just stunned, who on this line would walk off with someone's bag, and then the guard remarked, "you do remember the train changed direction of travel at Georgemas Junction?" I had been asleep and there at the opposite end of the train, just where I had put it, my bag!! Foolish foolish bishop.'
His words, not mine! The bishop had forgotten that after Thurso the train travels to Wick before starting the journey back to Inverness!
Well that concludes our Lenten Pilgrimage. I could not possibly tell you the title of the new series of posts which will be starting tomorrow - but you have probably guessed!
My song is love unknown,
My Saviour's love to me;
Love to the loveless shown,
That they might lovely be.
O who am I, that for my sake
My Lord should take, frail flesh and die?

He came from His blest throne
Salvation to bestow;
But men made strange, and none
The longed for Christ would know:
But O! my Friend, my Friend indeed,
Who at my need His life did spend.

Sometimes they strew His way,
And His sweet praises sing;
Resounding all the day
Hosannas to their King:
Then "Crucify!" is all their breath,
And for His death they thirst and cry.

Why, what hath my Lord done?
What makes this rage and spite?
He made the lame to run,
He gave the blind their sight,
Sweet injuries! Yet they at these
Themselves displease, and 'gainst Him rise.

They rise and needs will have
My dear Lord made away;
A murderer they saved,
The Prince of life they slay,
Yet cheerful He to suffering goes,
That He His foes from thence might free.

In life, no house, no home
My Lord on earth might have;
In death no friendly tomb
But what a stranger gave.
What may I say? Heav'n was His home;
But mine the tomb wherein He lay.

Here might I stay and sing,
No story so divine;
Never was love, dear King!
Never was grief like Thine.
This is my Friend, in Whose sweet praise
I all my days could gladly spend.