One of the great tastes of Scotland is Irn-Bru - which is produced by A G Barr plc.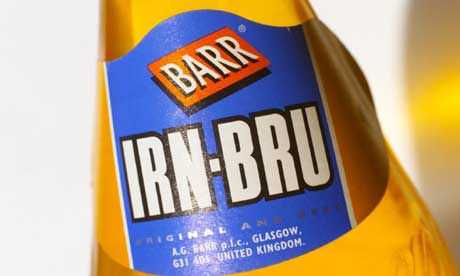 A.G. Barr plc is a British soft drinks manufacturer, based in Cumbernauld, North Lanarkshire, Scotland. It is particularly notable for the manufacture of the popular Scottish drink, Irn-Bru. A.G. Barr is the largest manufacturer of soft drinks in the United Kingdom. It is listed on the London Stock Exchange and is a constituent of the FTSE 250 Index.
Irn-Bru is known for its bright orange colour. As of 1999 it contained 0.002% of ammonium ferric citrate, sugar, 32 flavouring agents (including caffeine and quinine) and two controversial colourings (E110, E124). On 27 January 2010, A.G. Barr agreed to a Food Standards Agency voluntary ban on these two colourings although no date has been set for their replacement. The beverage is advertised as having a slight citrus flavour.