Tomorrow (16 August) sees the publication of 'A' level results. Sadly, not all students will have satisfied their conditional offers for university entry. If you are disappointed with your results, why not consider applying for entry to UHI through UCAS clearing? This blog has given you some idea of just how great our new university is.
Clearing and late applications

You can still apply for a degree course or Higher National award at the University of the Highlands and Islands (UHI), starting in September 2012, through UCAS Clearing or our late application process.
To apply for a Clearing place at UHI, find a course and campus you are interested in and call 0845 272 3600.
For more information on the Clearing process visit the
UCAS Clearing site
.
Time to watch another of our promotional videos!
Happy Feast!

HIS ROYAL HIGHNESS PRINCE PHILIP - DUKE OF EDINBURGH

Please pray for the welfare of Prince Philip, shown here at the Garden Party held at Balmoral Castle on Tuesday 7 August.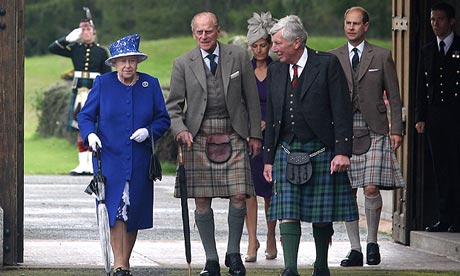 The Duke of Edinburgh has been taken to hospital as a "precautionary measure" after a recurrence of a bladder infection, Buckingham Palace has said.
Prince Philip, who is 91, was driven by ambulance to Aberdeen Royal Infirmary while staying at Balmoral with the Queen, a spokesperson said.
The Duke originally suffered the infection shortly before the Diamond Jubilee concert on 4 June.
He is likely to remain in the NHS hospital for the next few days
Prince Charles and the Duchess of Cornwall are at their private residence of Birkhall on the Balmoral Estate, while the Earl and Countess of Wessex are at Balmoral with the Queen.