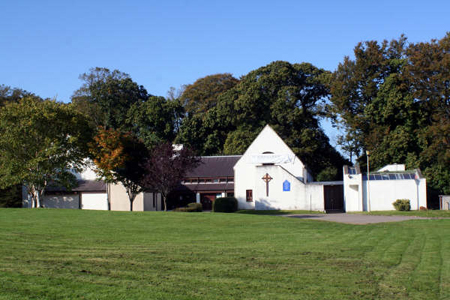 I can do no better than quote from Wikipedia:
The Barn Church is a parish church of the Church of Scotland at Culloden, in the Presbytery of Inverness. Although the congregation is relatively young, and only received full status as a parish church in its own right in the late 1980s, the building is of considerable historical interest. It was originally built as a tithe barn for the estate of Culloden House, and in 1746 it was used by the Jacobite army as accommodation on the night before the Battle of Culloden. During the 19th century it was used as a blacksmith's workshop, before being taken over by the East Church of Inverness as a mission station in the early 20th century. When it was granted the status of a church extension charge in the 1970s, the congregation erected a new church called "the New Barn" (designed with architectural "barn metaphors") which is joined to the old building; the historic building (the "Old Barn") today serves as the church hall.
Let us pray that we will soon be in full communion with the people who attend this remarkable church.