John Knox (c. 1514 – 24 November 1572) was a Scottish clergyman and a leader of the Protestant Reformation who brought reformation to the church in Scotland. He was educated at the University of St Andrews or possibly the University of Glasgow and was ordained to the Catholic priesthood in 1536. Influenced by early church reformers such as George Wishart, he joined the movement to reform the Scottish church. He was caught up in the ecclesiastical and political events that involved the murder of Cardinal Beaton in 1546 and the intervention of the regent of Scotland, Mary of Guise. He was taken prisoner by French forces the following year and exiled to England on his release in 1549.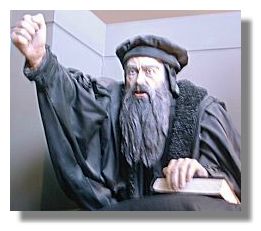 While in exile, The Rev. John Knox was licensed to work in the Church of England, where he quickly rose in the ranks to serve King Edward VI of England as a royal chaplain. In this position, he exerted a reforming influence on the text of the Book of Common Prayer. In England he met and married his first wife, Marjorie. When Mary Tudor ascended the throne and re-established Roman Catholicism, Knox was forced to resign his position and leave the country.
Knox first moved to Geneva and then to Frankfurt. In Geneva, he met John Calvin, from whom he gained experience and knowledge of Reformed theology and Presbyterian polity. He created a new order of service, which was eventually adopted by the reformed church in Scotland. He left Geneva to head the English refugee church in Frankfurt but he was forced to leave over differences concerning the liturgy, thus ending his association with the Church of England.
Jesus lives! thy terrors now
can no longer, death, appall us;
Jesus lives! by this we know
thou, O grave, canst not enthrall us.
Alleluia!

Jesus lives! henceforth is death
but the gate of life immortal;
this shall calm our trembling breath
when we pass its gloomy portal.
Alleluia!

Jesus lives! for us he died;
then, alone to Jesus living,
pure in heart may we abide,
glory to our Saviour giving.
Alleluia!

Jesus lives! our hearts know well
nought from us his love shall sever;
life, nor death, nor powers of hell
tear us from his keeping ever.
Alleluia!

Jesus lives! to him the throne
over all the world is given:
may we go where he has gone,
rest and reign with him in heaven.
Alleluia!