With an area of 142 square miles (368 km2) and only around 180 inhabitants, Jura is much less densely populated than neighboring Islay. The main settlement is the village of Craighouse on the east coast. Craighouse is home to the island's sole distillery, producing Isle of Jura whisky. The village is also home to the island's only hotel, shop and church.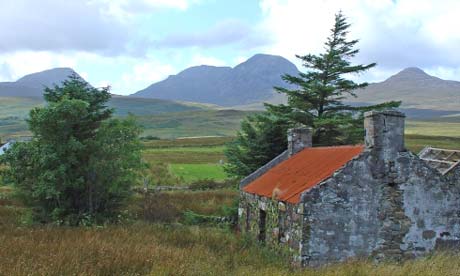 This is the account of the heavens and the earth when they were created.

When the LORD God made the earth and the heavens and no shrub of the field had yet appeared on the earth and no plant of the field had yet sprung up, for the LORD God had not sent rain on the earth and there was no man to work the ground, but streams came up from the earth and watered the whole surface of the ground- the LORD God formed the man from the dust of the ground and breathed into his nostrils the breath of life, and the man became a living being.

Now the LORD God had planted a garden in the east, in Eden; and there he put the man he had formed. And the LORD God made all kinds of trees grow out of the ground—trees that were pleasing to the eye and good for food. In the middle of the garden were the tree of life and the tree of the knowledge of good and evil.

The LORD God took the man and put him in the Garden of Eden to work it and take care of it. And the LORD God commanded the man, "You are free to eat from any tree in the garden; but you must not eat from the tree of the knowledge of good and evil, for when you eat of it you will surely die."
(Genesis 2.4-9;15-17)
Here we have a clear account of the creation of Adam. We might not take it literally, but the deeper message is clear.